Rtapalli Vidyapitha - a free residential Oriya-language high school - was established on 15th August, 1997, on the occasion of the 50th anniversary of India's independence. Modeled on India's rich Gurukula tradition, Rtapalli stands on the two pillars of Rta (Truth) and Shraddha (Love).

It aims to create a nucleus of students brought up with academic excellence and strong social commitment. In the ambiance of a Gurukula with modern technology, Rtapalli intends to shape the builders who will shape our nation and the world beyond. Here you can have a glimpse into the Mission and Vision of Rtasrota - the institution being built by our Rtashrees.

Nature is Our Highest Guru: This is the theme of learning at Rtapalli. Rtashrees are encouraged to be curious about nature and marvel at how it speaks to us through the language of mathematics. Let us enjoy this wonderfully fascinating Nature by Numbers, wonder at the scale of our exquisite Universe and watch Michio Kaku's fantastic video: The Universe in a Nutshell.

Academics: In addition to Orissa BSE curriculum, students (Class VI to Class X) currently learn advanced topics in mathematics, computer programming, physics, chemistry and biology. Students practice AMC/AIME problems in classroom. Strong emphasis is given to Sanskrit, Oriya and English literature. Our students learn to recite from the Vedas.

School curriculum includes Odissi dance and Indian classical music(Vocal, Tabla).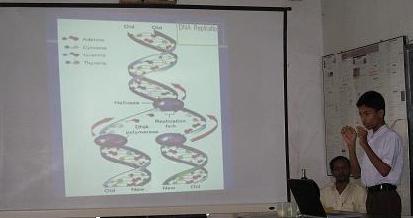 Important Academic Sites This link has several important links to lindau collection of nature-videos of Nobel Laureates talking to young students, International and USA Mathematics Olympiad, Science on Saturday Lectures (video) for high school students as well as MIT courses from their OpenCourseWare - a magnificent effort to reach out to students and others all over the world. It also has links to Art of Problem Solving, Khan Academy, Learn English from BBC, The Elements of Style by Strunk and White, Creative writing from Purdue University and many more.
Rtapalli Vidyapitha, At- Guabari, P.O.- Sasan, Via- Balipatana, Dist- Khurda, Orissa, Pin- 752102, Telephone - 674-2461551, 674-2461741, Email: rtapalli@shraddha.org